Time Magazine coverage of the 1937 Automobile Show
streamliner

ACD Club Member
17 Dec 2011 15:43
#21647
by

streamliner
streamliner replied the topic:
Take a closer look at the left rear fender from the Chicago Auto Show: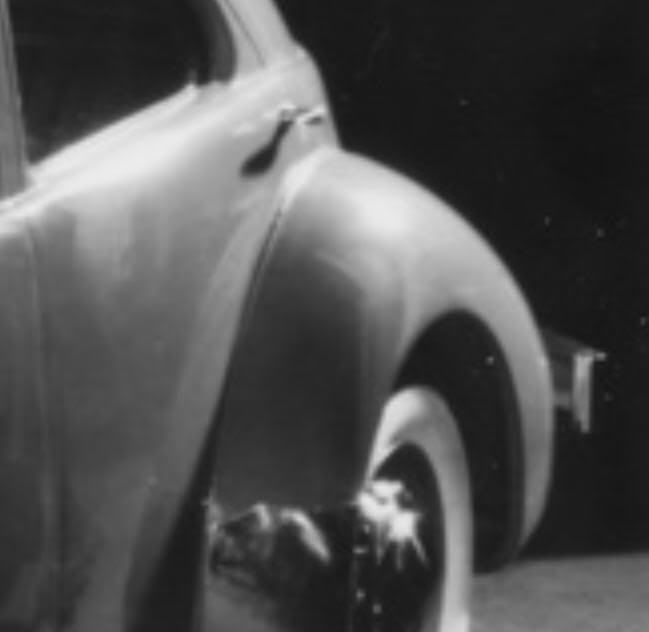 It appears that there is a buffed-out area (or maybe just a reflection?) in the exact same area as the dent from the Minneapolis Tribune photo. Are there any better, higher-resolution photos of either one available to look at?
---
Visit Alex Tremulis' Gyronaut Restoration and History Pages
World's Fastest Motorcycle from 1966 to 1970
www.gyronautx1.com
Please Log in or Create an account to join the conversation.
Josh Malks

ACD Club Past President
18 Dec 2011 19:36
#21658
by

Josh Malks
Josh Malks replied the topic:
With all the participants long gone, we will never know the exact truth of what occurred during that interesting fall of 1936. We do know that it was Alex?s inclination (and talent) to turn the mundane into drama, but simply calling his oral history a delusion or a falsehood will not do either. Based on the evidence that we have, I believe it possible to construct a credible scenario.

[i:m6b2d17q]Auburn had worked out all the details of the supercharged engine by mid-1936, and was planning on sending several supercharged cars to the November shows. They were no different in appearance than the unblown cars. In mid-October Alex came to Faulkner with a sketch of a Cord with external exhaust, a fitting ?coat of arms? for the new supercharged models. You can?t get those cars modified in time for the shows, said Faulkner. Yes I can, said Alex. A charming devil, Alex got Augie and his crew interested in the rush project. They came through, and managed to design and fabricate the new exhaust system and fit it to a single left-over renumbered 810 Beverly. It was ready by November 1. Duly photographed and press-kitted by the P.P. Willis Agency, the material was sent off Special Delivery to the New York, Chicago and Los Angeles newspapers.

The photo first appeared in the New York Times?s[/i:m6b2d17q] Automobiles [i:m6b2d17q]section on November 8. The show opened on November 11. But the car with pipes wasn?t there. Nor were there any brochures on the expensive option ? just a footnote in the standard show brochure. Auburn always liked a "blockbuster" for its show exhibit, and needed its New York show space to display its new Custom Series and thereby attract a whole new clientele. Faulkner went, to encourage the salespeople and talk to the press about the forthcoming 1937 Auburns.

The Chicago show began before the New York show ended. The new car with external exhausts would be Auburn's "blockbuster" at the Chicago show. (It had not appeared in New York because it couldn't be in two places at the same time.) In recognition of his accomplishment, Alex was given the honor of driving the be-piped Cord sedan on the six-hour trip from Connersville to Chicago. (Of course, it had to be cleaned and polished upon arrival.) Faulkner came to see the car?s debut. So did E.L. Cord, whose offices were in Chicago. So did Richard Bonelli, who sang for the Chicago Opera. And so, perhaps, did an un-named gentlewoman who did not like the ?entrails?. The new "Super-charged" brochure appeared. Alex was there too, and basked in the attention and compliments.[/i:m6b2d17q]

More than thirty years later Alex?s fertile storyteller mind blended the two interesting tales into a single unforgettable one. So maybe he switched the cities around. And embellished some, as he was wont to do. New York was more glamorous and a last-second rush to get there more exciting. And who knows what was really said at the shows by the parties involved. But it's still a great story and at its core there may well be a signal accomplishment.

The above is, of course, conjecture. But it seems to fit the facts, rumors and stories. Bottom line to me -- Alex Tremulis, rest his soul, was a talented imagineer, stylist and illustrator. He was an equally talented teller of tales. We benefit from all of these legacies.

P.S. As for the bolt-on screens, in a 1968 ACD Newsletter article Alex identified it as "One of the first 10 supercharged Cords."
Please Log in or Create an account to join the conversation.
balinwire

Frequent Forum Contributor
streamliner

ACD Club Member
03 Jan 2012 21:15
#21837
by

streamliner
streamliner replied the topic:
I?ve gone through some more files to look for the reason behind Gordon?s ?I Beg To Differ? comments, and I think I can provide a little more information, but I never even knew that there was any controversy over the pipes.

As far as Gordon?s frustrations towards Alex, I think they?re totally understandable. You have to look at them from his point of view. The pipes on the 1937 supercharged Cord became a major focal point on the Cord only after Gordon left. It?s like when you?re playing Scrabble and your letters spell out one of the biggest word scores of the game. Then some guy comes along and just adds on an ?S? and gets a triple word score. I?m sure it must have been frustrating.

Both Alex and Gordon had plenty of time to correct any differences they may have had concerning the pipes. They were both at Ford from 1952 to 1963, where Alex even worked in the same Lincoln studio as Gordon for a while. In the late 1960?s, they both publicly shared their recollections with Bill Kinsman on the ?Lost Connersville Photos?. Alex?s memories of the supercharged show cars featured prominently. At that time there was apparently either no dispute or maybe it was just talked about at the cafeteria tables. I?d assume that many of the other players involved were still alive at that time who would have set the record straight, if necessary.

Alex?s resignation letter to Henry Ford II sheds a little more light on the circumstances on his departure from Ford and Alex?s take on the nature of those anti-Tremulis comments. Apparently there was a lot of table-talk going on at Ford:



Throughout the rest of the ?60?s and ?70?s they both attended ACD meets, sometimes together. Alex?s stories at these meets were always a source of entertainment. For three decades, the ACD Newsletter published numerous references to Tremulis? connection with the supercharged Cord?s sidepipes, alongside Gordon?s comments and his own recollections. Still, there was no issue at that time.

When Gordon?s book, ?Rolling Sculpture?, was published, Alex was one of the first to offer his congratulations. Gordon even went so far as to use Alex?s letter as part of his review for the book:



In February, 1988, Alex even apologized directly to Gordon for putting the sidepipes on the supercharged Cord. Apparently Gordon never did like those pipes after all. It?s ironic that of all the cars he designed, he chose the 1937 supercharged Cord for the cover of Rolling Sculpture.



In April of 1988, Gordon?s reply to Alex, although very short, provides a lot of insight to his ?I Beg To Differ? comments. In it he implied that even the ?Errett Lobban Cord? book that they both autographed for Bob McEwan was also a work of ?fiction? and that as far as Tucker goes, Alex was probably the only one left alive who had the story to tell. Very similar parallels to his ?I Beg To Differ? comments:



Then just a few months later, at the exact time Gordon questioned Alex?s accomplishments, one of the biggest Hollywood directors of our day, Francis Ford Coppola, was introducing his movie Tucker, A Man and His Dream, in which Alex Tremulis? character plays a prominent role. With Coppola?s Oscar-winning Godfather movies and the highly publicized and way over-budget Apocalypse Now, anything he did was big news and big bucks. Tucker was no exception. The movie was being pre-reviewed in every publication and especially in automotive journals. If you were a car guy, you couldn?t escape it. And Alex, being someone who was there for it all, was highly sought after for comments on what it really was like. It sounds glamorous but it wasn?t. There were no royalties from the movie and the consulting payment barely covered the costs of having his house turned inside out or the inconvenience, especially with Alex?s health issues accelerating. But that didn?t stop the press from misquoting him. The press doesn?t care about the minor details of exactly which part of which car someone may have done.

Throughout his life, Alex and his wife Chrissie went out of their way to correct the press for giving him any design credit for the Cord 810/812. But nobody cares about the corrections, if they?re ever even published ? it?s old news by then and they just take up advertising space.

Here?s a typical correction Alex made, this one from 1963, along with the correction that was published. He saved both his letter and the published correction. This was obviously very important to him. There are also ones from the Tucker timeframe, but it?s clear this goes back a long, long way.





In any setting, public or private, Alex Tremulis never had an unkind word to say about his mentor, Gordon Buehrig. And Alex?s boyhood hero, Gordon Buehrig, probably never even saw Alex?s corrections or heard the accolades that Alex heaped upon Gordon at every opportunity. I don?t know if Alex or Chrissie did see or hear Gordon?s ?I Beg To Differ? comments, but no matter how you look at it, it?s still a very sad footnote to both men?s storied careers.
---
Visit Alex Tremulis' Gyronaut Restoration and History Pages
World's Fastest Motorcycle from 1966 to 1970
www.gyronautx1.com
Please Log in or Create an account to join the conversation.
Chris Summers

ACD Club Life Member
03 Jan 2012 21:43
#21838
by

Chris Summers
Chris Summers replied the topic:
Reading his letter of resignation, I like Alex Tremulis more and more. My kinda guy.
---
Chris Summers
ACD Club
Chandler-Cleveland Motor Club
CCCA

So we beat on, boats against the current, borne back ceaselessly into the past.
Please Log in or Create an account to join the conversation.
Bill Hummel

ACD Club Past President
03 Jan 2012 23:16
#21841
by

Bill Hummel
Bill Hummel replied the topic: Cord "Fiction" Book
Which book is Gordon referring to when he says "Cord 'Fiction' Book?"

No book is 100% correct, but there must be some glaring discrepencies in this book for Gordon to refer to it as a "Fiction" book.

Is he referring to Borgeson's book on my grandfather?
Please Log in or Create an account to join the conversation.
Moderators:
Joe Holderman
Time to create page: 0.121 seconds